KeyBridge Technologies is proud to have been selected as a "Prime" contract holder for this important Navy IDIQ contract. The primary requirements for SeaPort-e are aimed at providing engineering, technical, and programmatic support services for the Warfare Centers.
The 22 core contract areas are:
Research and Development Support
Engineering, System Engineering and Process Engineering Support
Modeling, Simulation, Stimulation, and Analysis Support
Prototyping, Pre-Production, Model-Making, and Fabrication Support
System Design Documentation and Technical Data Support
Software Engineering, Development, Programming, & Network Support
Reliability, Maintainability, and Availability (RM&A) Support
Human Factors, Performance, and Usability Engineering Support
System Safety Engineering Support
Configuration Management (CM) Support
Quality Assurance (QA) Support
Information System (IS) Dev., Information Assurance (IA), and Information Technology (IT) Support
Inactivation and Disposal Support
Interoperability, Test and Evaluation, Trials Support
Measurement Facilities, Range, and Instrumentation Support
Logistics Support
Supply and Provisioning Support
Training Support
In-Service Engineering, Fleet Introduction, Installation & Checkout Support
Program Support
Functional and Administrative Support
Public Affairs and Multimedia Support
KeyBridge Technologies can compete on all Task Orders appropriate to Zones 2, 4, and 5.
The entire life cycle of a warfighting capability are the functional areas identified in SeaPort-e Task Orders and KeyBridge Technologies is well positioned to successfully compete in these functional areas.
SeaPort-e Task Orders are published based on seven geographic zones. These zones are: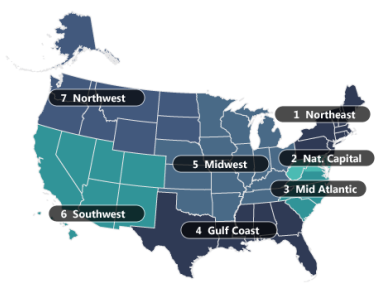 Northeast Zone
National Capital Zone
Mid Atlantic Zone
Gulf Coast Zone
Midwest Zone
Southwest Zone
Northwest Zone